HOW TO GET TO THE VISITOR CENTRE
Calais to Thiepval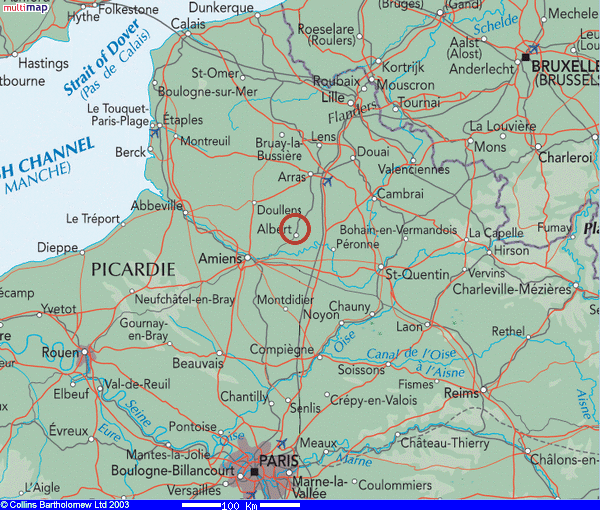 Approximate mileage from the Channel Tunnel
0 From TUNNEL take A16 → Calais / Lille / Reims / PARIS until exit 18
6 At / from CALAIS take A26 → St Omer / Arras / Reims / PARIS
25 Toll booth - payage Take ticket (Near St Omer)
72 Go on past exit 17 (Arras) then branch on to A1→ Arras-Est / PARIS
86 Leave A1 at exit 14 BAPAUME Pay Toll*. Take the By-pass → AMIENS Albert
87 Follow → AMIENS Albert After the 4th roundabout you will be on the D 929
88 LE SARS Carry straight on through village
98 POZIÈRES, turn right → Thiepval. (It is signposted )
100 THIEPVAL, turn left for the Monument and Visitor Centre (follow the signposts)
Speed limits: KM / MPH
autoroutes:130 / 80 if fine, 110 / 68 in rain, or if so marked.
On open road 90 / 55. (not 60 as in UK)
In towns and villages 50 / 30. (Beware - the town / village name sign counts as an automatic 50 / 30 limit sign.)
Also 70 / 43 in certain marked places such as near cross roads on the D929
* It is often easier to pay the autoroute toll by credit card (CB). Put the ticket and then your card into the machine, or if the queue is not too long, just give the ticket and your card to the attendant. (Visa or Master Card). They return your card instantaneously.
CALAIS to THIEPVAL should take you no more than 1h 30mins
By Train from Paris (Nord) it is more difficult and takes about two hours to Albert with a change at Amiens. From Calais to Albert it takes about half and hour longer, and a cab from Albert is not far off
. It is possible to hire cars in Albert.
Don't forget entrance to the Visitor Centre is FREE.